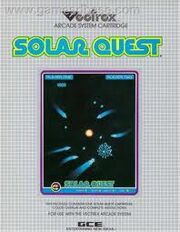 "Why read about a game when you could play it? So playing it is easier, of course!"
- Mr. Dark

---

This page is about game info.

Here, you can learn alot about retro games!
Origins/gameplay
Edit
Solar Quest began as an arcade game released by Cinematronics which was ported to the Vectrex in 1982 by GCE. In the game, ships flew around the screen and the player(s) must shoot them. When shot, a survivor would appear from the ship. Player(s) could either shoot or scoop up a survivor for points or else they would eventually fly into the sun (at the center of the screen) and perish. Players could also employ a nuke that would cause a wide arc of damage. Hyperspace could also be used to send the player(s) to a random location on the screen in case of emergency.
After several ships had been shot, they would become more aggressive and start pursuing the player. There are seven different types of alien ships altogether. Also, a Ghost ship will appear after a while and start shooting at the player.
The difficulty levels increase by having the enemy ships start pursuing the player's ship quicker and the Ghost ship appearing more frequently.
Colliding with the sun or any ship or being shot by the ghost ship will cause the player(s) to lose a reserve ship; once all reserve ships are lost the game will end. An extra nuke is awarded at every 10,000 points and extra ships are awarded with every 25 survivors picked up.
In late 2012, it became known that bassist Rudy Sarzo (who has played in the heavy metal/hard rock acts Dio, Whitesnake, and Quiet Riot, among others) had a Vectrex on Quiet Riot's tour bus, due to an e-bay auction selling off the collection, one of which games included Solar Quest. The package also included an original Vectrex controller, a Light Pen and a letter of authenticity of ownership.
The International Play Your Vectrex Day was announced in late 2012, which invited people from all over the world to participate in playing their Vectrex and keeping a record of it. It took place on November 1st, which Solar Quest tied for second place as to being the second most popular GCE-released game that day that was played.
Stage Select review (6/10)